Handicraft products have gained popularity in recent years, despite the popularity of manufactured accessories. Is there any advantage to using handmade items aside from their unique beauty? Greenvibe will reveal all in the following article!
Each handicraft products are unique
Handcrafted goods are not mass-produced in the same way that industrial goods are. Each item is unique and free of stereotypes.
While evaluating the same requested form, each piece is created with a different level and technique of each artisan. Of course, all artisans put their heart and soul into their work.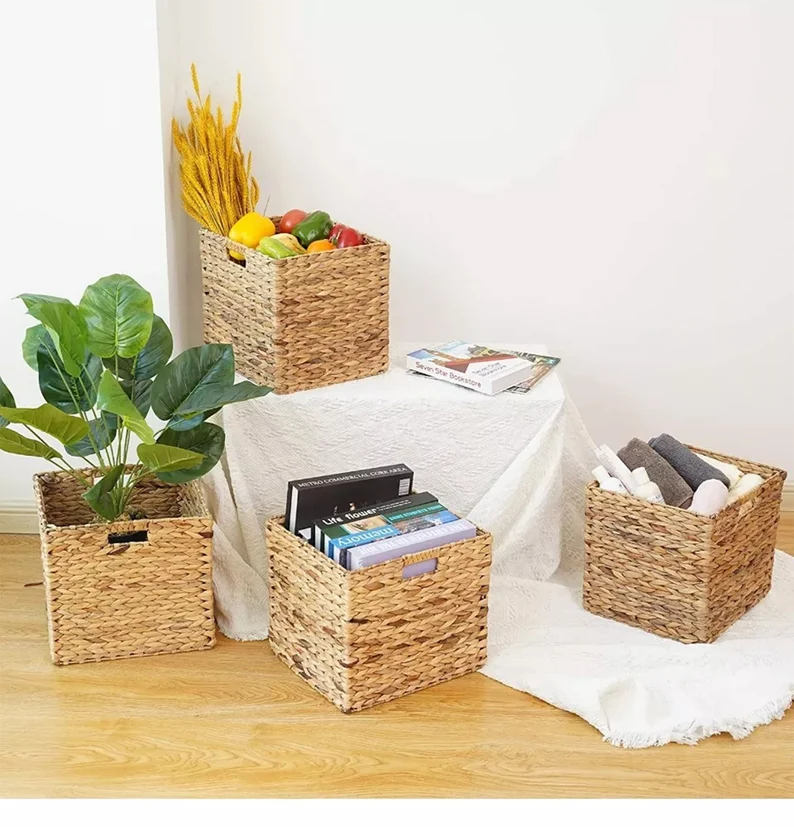 Therefore, even if the design is the same, each wicker handicraft is a one-of-a-kind piece that you won't find anywhere else.
They are eco-friendly
All Greenvibe products are made from natural materials such as seagrass or water hyacinth, so their life cycle is always guaranteed not to harm the environment, even when decomposing.
In the long run, they can be reused, renewed, or recycled for a variety of purposes. Seagrass baskets, for example, can be stored or decorated in a variety of ways. When you've used all of their benefits, you can remove the frame and bury the seagrass in the ground as plant fertilizer. These items are biodegradable.
Greenvibe, as a manufacturer, strives to minimize the negative impact during the manufacturing process. We chose seagrass and water hyacinth as potential green living solutions. Harvesting these materials will reduce their obstruction in river systems due to their rapid expansion. As a result, other species will have more room to grow, and the ecosystem will be more balanced. In other words, handcrafted products could help us meet human needs while also protecting the environment.
Each handicraft tells a story
There is always a story behind handcrafted products about the artisans and the process of making them. Each product goes through a lengthy process to reach your home, beginning with raw material harvesting and ending with product finishing. Each stage necessitates time, effort, and hard work from both artisans and Greenvibe.
Greenvibe wants to preserve the traditions of a long-standing handicraft village in Vietnam. Progress is limitless, as are the spirits of artisans. It's been a long process, but Greenvibe can now proudly bring all-in values to your home, and beyond that, worldwide!
Handicrafts are representative of traditional culture
Handmade products represent a rich history of traditional craftsmanship in many countries. Most Greenvibe products are made by the skilled hands of artisans in Vietnam, and they represent their hard work and dedication.
For many generations, previous generations have passed down the esoteric principles and methods of the profession. They will fade over time if not properly cared for. Using handmade products, in other words, is a way to encourage artisans to keep this craft alive with humanity and art.
Handicrafts help the life of artisans better
Handicraft production in Vietnam provides artisans with an additional source of income. The first is the source of income from product sales. They also receive additional compensation for harvesting materials. Farmers in Kim Son village, Ninh Binh, or Chuong My, Hanoi, for example, frequently harvest seagrass to sell to many craft workshops across the country. Handicraft profits will help artisans make a living while also investing more in facilities to promote and develop the craft village.
The core value here is more than just economics. Each product sold increases artisans' confidence in their craftsmanship and products. Since then, artisans have been inspired to maintain and improve their weaving skills, thereby continuing the journey of creating one-of-a-kind handmade products. Handicraft provides numerous advantages. You are not only acquiring the one-of-a-kind beauty of handicrafts, but you are also positively impacting the environment. Furthermore, you are helping to preserve the beauty of the craft village as well as the dedication of the people who make the products.
Greenvibe is also a supplier of handicraft home decor products – from natural placemats and coasters to wholesale baskets and trays. We value quality, trust, and effectiveness in our business ventures.
Click here to see some wholesale handicraft products!