Each item on the woman has been carefully chosen. They exude women's distinct and individual styles, such as aristocracy mixed with rustic and femininity, or cuteness in rustic and simple beauty. These looks are exemplified by sparkling, expensive jewelry or simple accessories. Handmade handbag, simple item made of sustainable materials, is now used by women as everyday items. These natural handbags are appropriate for women's style, celebrating their beauty and fashion.
Handmade handbags are gradually becoming the favorite eco-friendly accessories of women. They are made of Vietnamese seagrass and water hyacinth, sustainable and environmentally friendly materials. These materials make them durable and come in natural tones. With the ingenuity, creativity, and sophistication of each hand knit of artisan, natural handbags are more aesthetically pleasing and sturdy than ever. Their straps are also designed to be attached, meticulous in every line to ensure the surest and most thorough.
Handmade handbags are unique and classic, lightweight and flexible with many different designs. The stylish tote bags will make money, wallets, phones, and other daily essentials well organized.
Handmade handbags are really adaptable. The women may wear them with a variety of simple, vintage clothing. They can also wear it in a classy, courteous style. These handbags are suitable for many different spaces, such as going to the beach, having a picnic, going to the market, or going to the garden. Because of their timeless appeal to taste and elegance, these bags will never go out of style.
To celebrate women's beauty, Greenvibe has selected the 7 most unique handicraft handbags. Let's discover with us!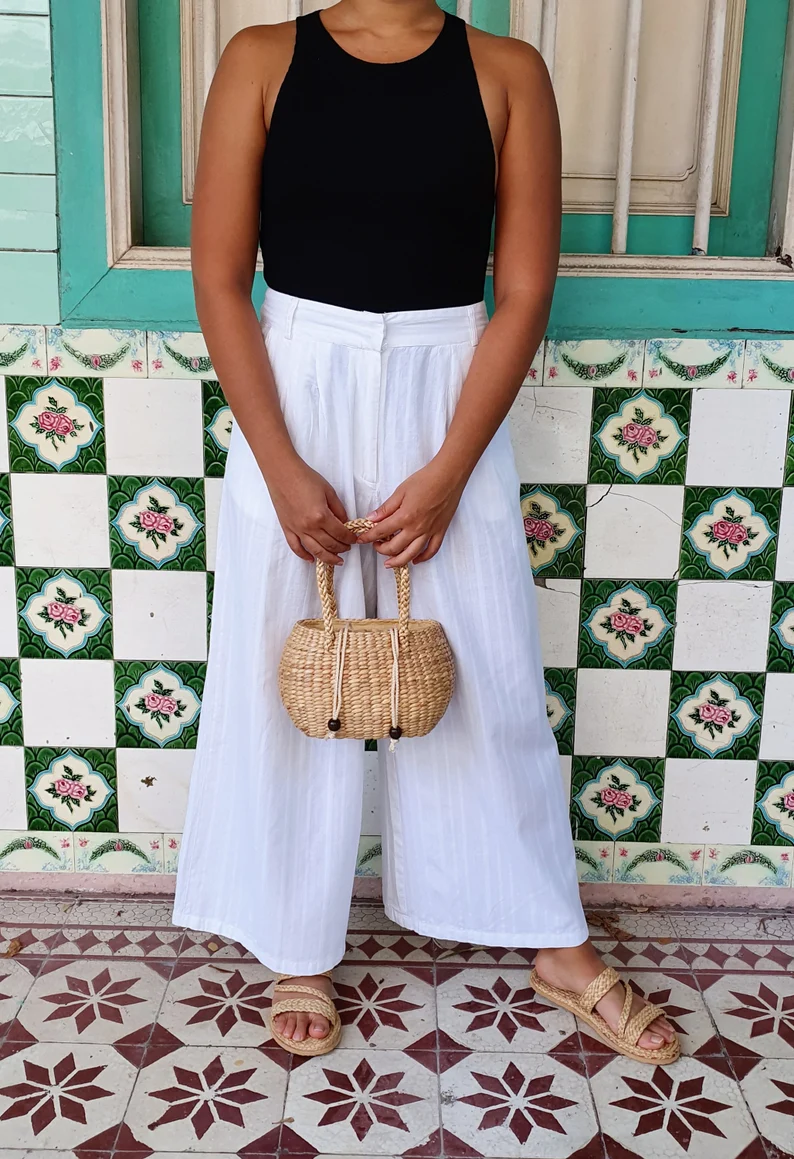 A very distinctive round-shaped handbag! It is completely handcrafted using hyacinth, a sturdy and natural material. This bag has an interesting tropical vibe, exuding a healthy, dynamic, and enthusiastic vibe.
This water hyacinth handbag is extremely suitable for long trips, to places like the sea or crowded cities. It's also ideal for the cool, dynamic style of girls who enjoy backpacking and traveling. For a walk in the street at sunset or a passionate date walking on the white sand, wearing this handbag is small and convenient, making a woman feel more comfortable being herself.
A water hyacinth tote with a basic, familiar but still very unique design. But not just that, this handbag is suitable for many styles when adding small decorations, like Pom Pom for example. When there is no decoration on the bag, it is appropriate for a classic, elegant style.
But when combined with lovely decorative items, it immediately becomes a friend for active girls.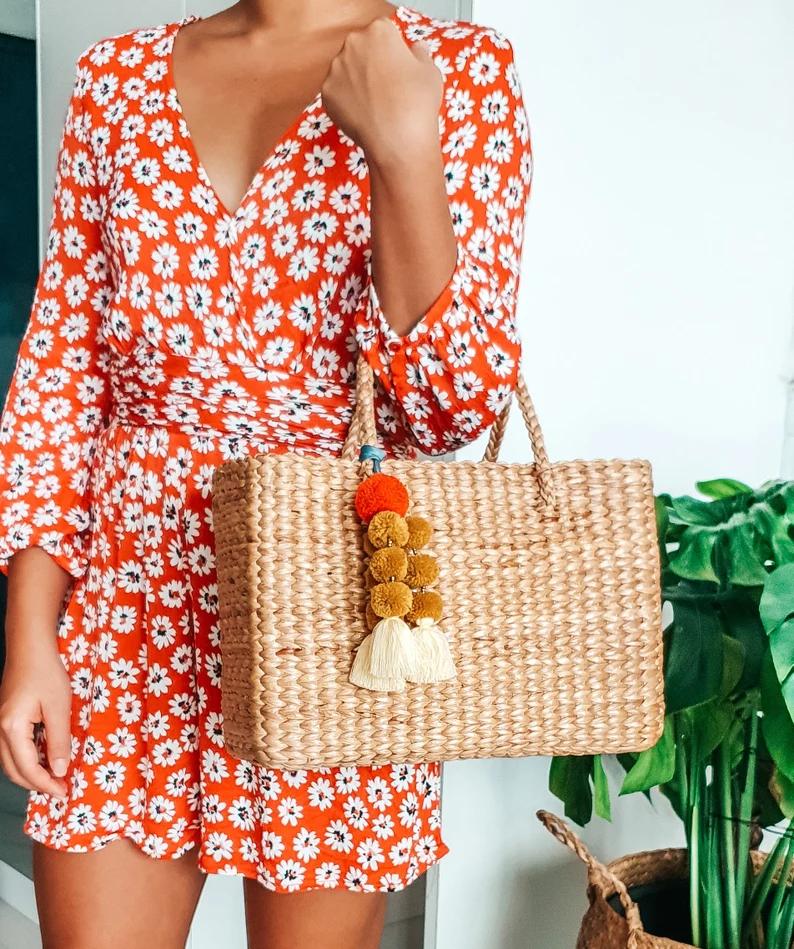 This basic water hyacinth tote is suitable for carrying on trips to the countryside and visiting your loved ones. If used daily, thanks to the comfortable storage area, it will become a convenient multi-purpose shopping basket. If you decorate with Pom Pom, it becomes an extremely interesting accessory to go for a walk. It suits all styles of women, depending on their decoration and uses.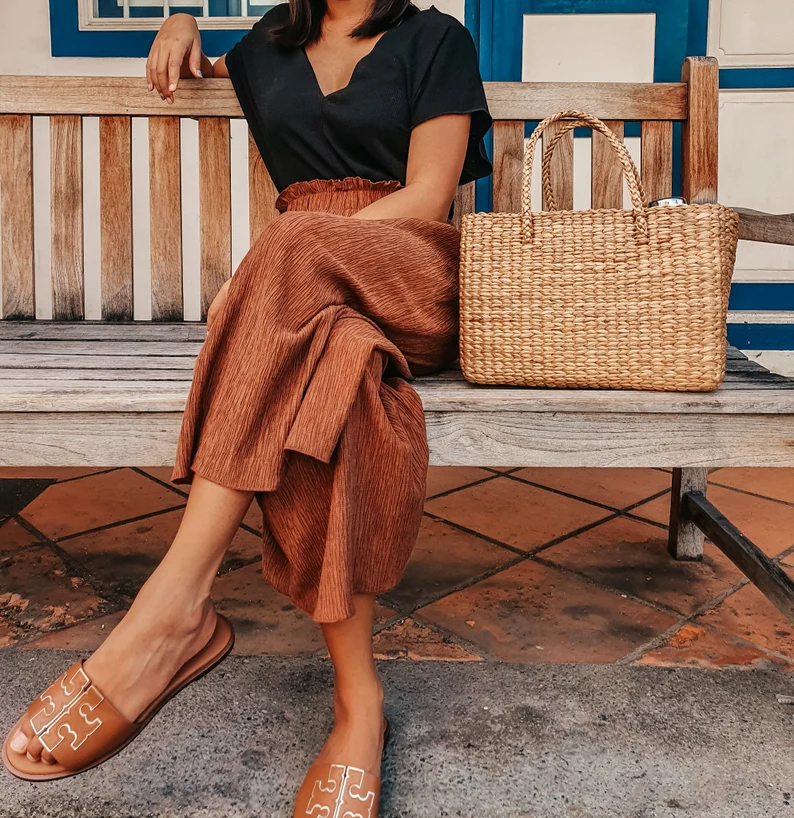 Another water hyacinth handbag! Shaped like a high-end designer purse, this bag is made of hyacinth, making it both modern and eco-friendly. It has a zip lock, which makes it easy to store the items contained inside. People around you when looking at this bag, are attracted by its modern design and will make a high impression.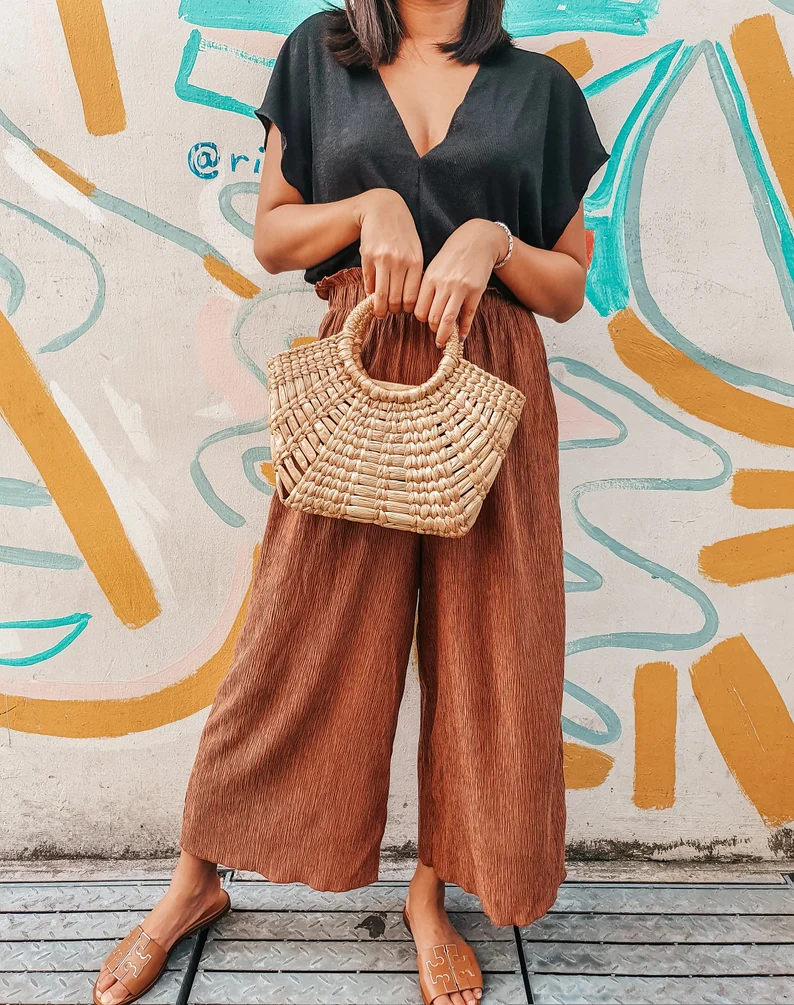 This hyacinth bag exalts the youthful elegance of a woman. It looks like it was made by a high-end brand, because of its modern style. It is suitable for going out, going on a date at a cafe, or simply shopping at the mall. This bag is suitable for all types of fashions that go with it, like a classic French lady style, or a cheerful young American girl. It is also suitable for those who like the traditional dynamic Asian style.
This is a bag with sophisticated and unique textures. Crafted from seagrass, with the skillful hand of artisans, this bag has reached the ultimate in durability and aesthetics. The highlight of this bag lies in its color and texture. This natural handbag is a harmonious combination of white and brown, combined with attractive tribal motifs. Large storage space, helping you comfortably store many necessary things without having to worry about much.
This bag will make you, or other women carrying it, stand out in the crowd with its eye-catching design. It can be combined with many different fashion styles or combinations. Combined with a thin feminine white dress, or a trendy mini skirt, it enhances the beauty of a woman. This seagrass handbag is suitable for picnics and touring the mountains, it can also be a morning to the flower shop or it can be a stress-relieving beach trip.
This seagrass handbag is for minimalist, dreamy girls! It is suitable for taking gentle pictures, in a flower-filled garden or on a white sand beach followed by the lapping waves of the beach. It is extremely suitable for feminine girls who prefer a peaceful place without the hustle and bustle. Holding a bag with a flower in it, taking a picture, breathing in the fresh air, what could be better? Light lovers, this bag is for you!
This is a seagrass handbag with a half-moon shape. It has an open weave, which looks fragile, but is actually extremely sturdy. On the inside, it has a layer of fabric to safely hold items such as phones, makeup, and wallets. Besides, the handle is meticulously designed, sturdy, and highly aesthetic. With the extremely natural color of seagrass, exalting the natural beauty of a woman, it is suitable for a relaxing coffee break, or a walk around the lake.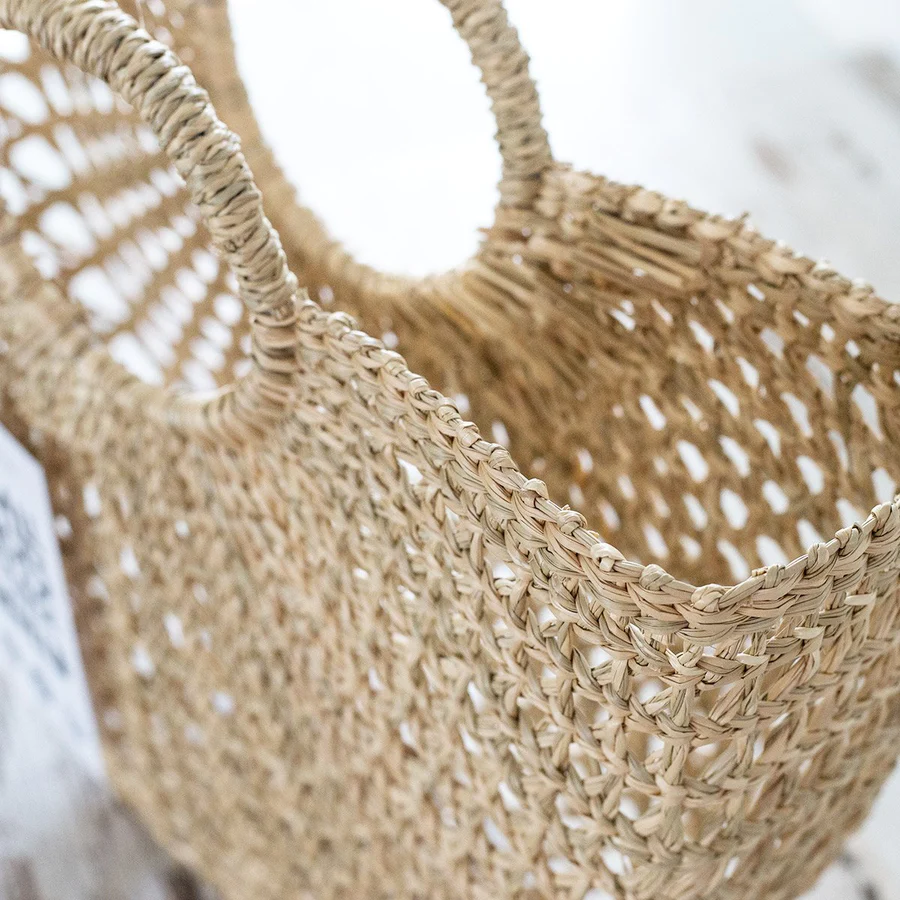 6. Seagrass Tote – Multi-style, multi-aesthetic
This seagrass tote has a fancy knit pattern. Although it looks like a normal bag, it is knitted in an open weave style, which enhances its style. It can be combined with many decoration accessories so that users can use it in many different fashion styles. As with the monotonous handkerchief, it exudes elegance around the woman. This seagrass tote is highly multi-aesthetic.
The seagrass tote is suitable for a day at the market, thanks to spacious storage space. It is probably suitable for visiting a flower shop or going down to the peaceful countryside. It exudes a rustic, simple, and calming look. If combined with other decorations, like a dot handkerchief, it will give a luxurious, aristocratic look when paired with formal outfits.
7. Seagrass Handbag – Simple, sophisticated, rustic
The last product that Greenvibe wants to recommend to you is this seagrass handbag! It has an open weave, which sets it apart from regular seagrass bags. It has a compact, lightweight shape, the long handle is designed to make it look more unique.
This seagrass handbag is suitable for girls with a rustic, casual style. It is also suitable for the girl who likes tradition or likes the gentle nostalgic style of the past. Or go with modern, youthful styles, it still adds the hidden rusticity inside. This bag can act as a market bag, suitable for an afternoon market, visiting souvenir shops, or buying fragrant fresh flowers.
These are the bags that Greenvibe would recommend to women. Let these natural handmade handbags speak for you, making you feel more comfortable being yourself. Greenvibe can once again affirm, these handmade bags never go out of style!
Click here to discover more about Greenvibe's wholesale handmade handbags.
Greenvibe is a trusted exporter of handicraft home decor products made in Vietnam. We have factories that use natural seagrass, water hyacinth, and a strict product manufacturing process. Looking forward to your attention and cooperation!