Water hyacinths are naturally occurring rapidly growing aquatic plants. It is also a naturally renewable material that can be replanted to meet a variety of requirements. In recent years, it is being utilized to become a sustainable resource for producing various homewares. Through many different complex stages, artisans delicately turn them into beautiful products with many unique weaving styles for hyacinth products
The artisan's ingenuity determines the uniqueness of the weaving styles. Water hyacinth weaving is done in nine different styles by artisans in Vietnam. The names refer to how the hyacinth stems are treated or how they look likely after being woven.
In general, from highest to lowest cost, Greenvibe has the top 9 weaving styles for hyacinth products:
Rolled weave

Twisted weave

Rice nut weave

Braided weave

Arrow weave

Close flat weave
Open zigzag weave
Open hexagon weave

Open asterisk weave
1. Rolled Weave
Compared to other water hyacinth weaving styles, rolled weave has the highest production cost.
To make rolled weaves, artisans first move water hyacinth stalks into a fine rope before wrapping them around a core (which includes multiple seagrass strands). These ropes are then linked together, either with or without a metal frame, to form a product.
The rolled weave of water hyacinth is ideal for Storage & Organization items such as water hyacinth baskets, laundry hampers, laundry baskets, storage baskets, and storage bins due to its thick properties.
2. Twisted Weave
Twisted weave has the second-highest production cost. In Vietnam, artisans frequently twist two or three water hyacinth stalks together before crafting or sewing them into baskets. Water hyacinth ropes come in a variety of diameters.
Twisted weave appears similar to rolled weave, but the main difference is the smaller rope diameter and a wider range of product patterns.
Water hyacinth ropes can be woven open or closed, vertically or horizontally, and in a single, triple, or quad weave. To keep their shapes, water hyacinth products with twisted weaves require a metal frame.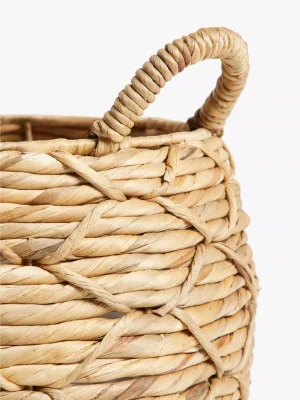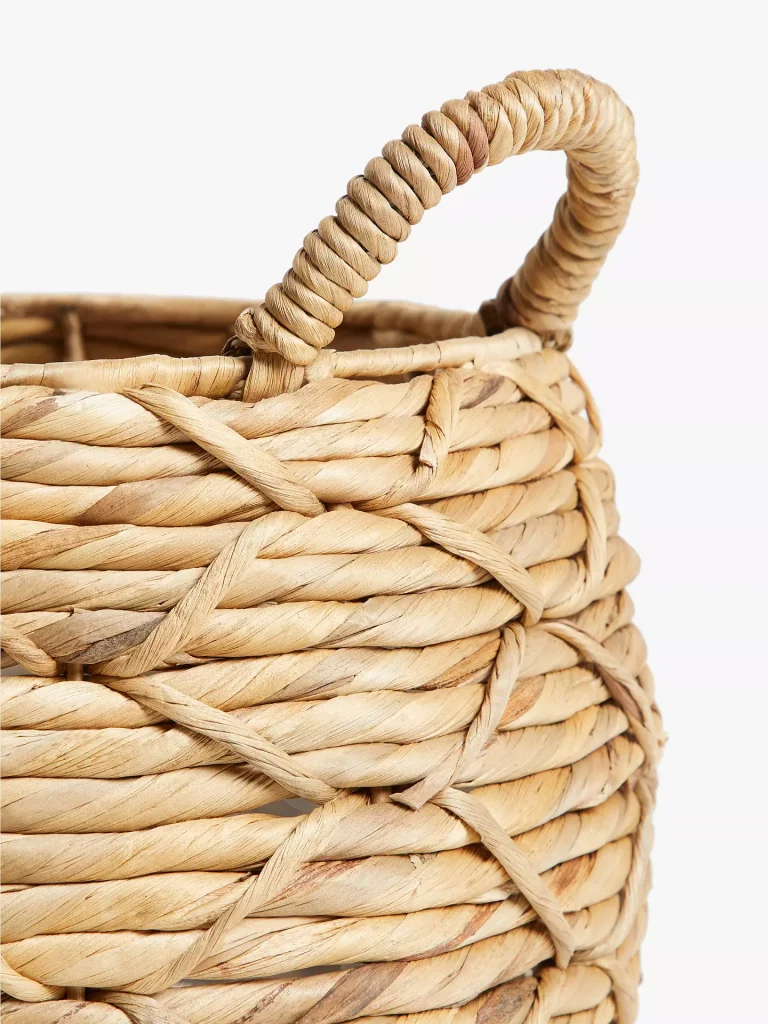 Round water hyacinth storage baskets
The twisted weave, which comes in a variety of styles and shapes, is widely used in both Storage & Organization and Home Decor items such as water hyacinth baskets, indoor planters, decorative vases, trays, lampshades, and so on.
3. Rice Nut Weave
Rice nut weave is the third most expensive water hyacinth weave style, after Rolled weave and Twisted weave.
As the name implies, two water hyacinth stalks are twinned together to form a weave resembling a rice nut. Rice nut weave is not particularly thick, but it is extremely durable due to its robust and tight construction in most cases.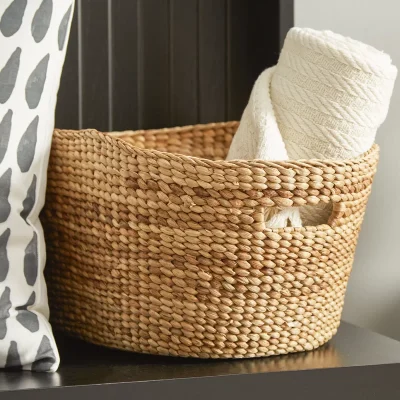 Round water hyacinth poufs
Water hyacinth baskets with rice nut weave will keep their exact shape when combined with a steel frame. Rice nut weave is used in a variety of home decor wholesale items such as indoor planters, trays, wall decor plates, table placemats, vases, lampshades, mirror frames, and handbags.
4. Arrow Weave
Another traditional style used by local artisans for their products is arrow weave. Two water hyacinth stalks are twined together to form this weave that resembles an arrow or fishbone. You've probably seen this weaving style before because it is very popular.
The arrow weave is coupled with metal frames when artisans use it for water hyacinth baskets, planters, or organizer trays. This combination will increase product durability while preventing deformation over time.
Aside from wicker storage baskets, water hyacinth arrow weaves can be found on other home furnishings. They include organization trays, indoor planters, table placemats, lampshades, handbags, shopping bags, mirror frames, etc.
5. Braided Weave
Many people confuse braided weaves with arrow weaves because their appearances are so similar. They differ, however, in terms of weaving techniques and patterns.
The name 'Braided weave' refers to the technique of braiding three or five water hyacinth stalks into a rope. Following that, the ropes are either woven or sewn into a product. There are obviously many rope diameters (such as 10mm, 11mm, 15mm, and 20mm) and weaving styles available with this technique: close/open, vertical/horizontal, single/double/triple weave.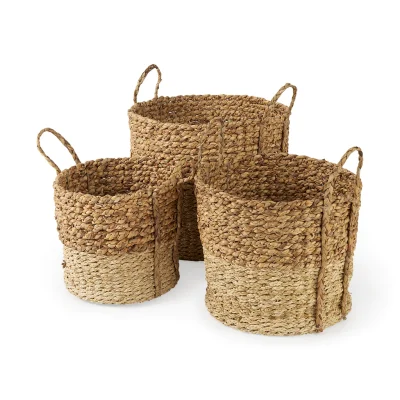 Vietnam water hyacinth planter
Depending on the function, Vietnamese artisans braided ropes into a product with or without a metal frame. The braided weave is commonly found in water hyacinth storage baskets, laundry hampers, laundry baskets, bins, handbags, shopping bags, indoor planters, rugs, home decor accents, and other similar items.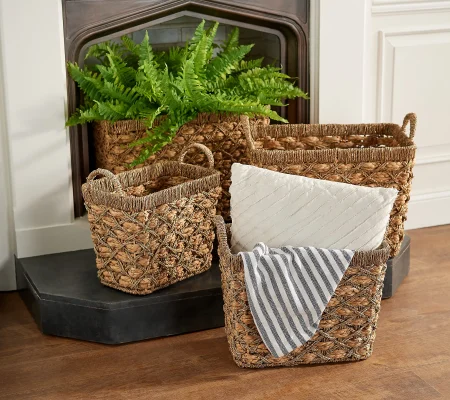 Water hyacinth laundry baskets
6. Open Asterisk Weave
Open asterisk weave is made by weaving multiple water hyacinth stalks over a metal frame to create an asterisk pattern with slits. They will allow products to get better ventilation and reduce the risk of mold growth. So, metal frames are required for this weave, since without a metal frame, water hyacinth products will lose form, and function poorly.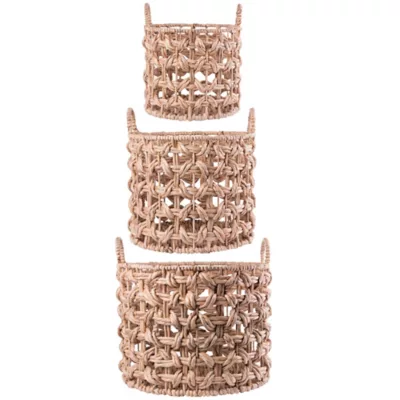 Water hyacinth baskets
Products with open asterisk weaves will be both practical and aesthetic. This weaving style is suitable for water hyacinth baskets, storage bins, laundry hampers, storage trays, and home decor wholesale such as lampshades, and lanterns.
Water hyacinth laundry baskets
7. Open Hexagon Weave
Open hexagon weave is not as popular as the above weaves, yet you might see them in several designs of water hyacinth products.
Vietnamese artisans turn water hyacinth into this weave by crossing multiple water hyacinth stalks, so it will create open hexagon gaps. The gaps are beneficial for these items since they help water hyacinth products well-ventilated.
Similar to an open asterisk weave, an open hexagon weave requires a metal frame to reinforce the product's sturdiness. This weave is frequently used to make water hyacinth baskets, storage bins, wicker laundry hampers, and decorative trays.
8. Open Zigzag Weave
The open zigzag weave is made by weaving water hyacinth stalks in a zigzag pattern up and down a metal frame.
The open zigzag weave, like the previous two open weaves, is typically combined with a metal frame to retain good shapes for products, particularly water hyacinth baskets and boxes.
Water hyacinth laundry baskets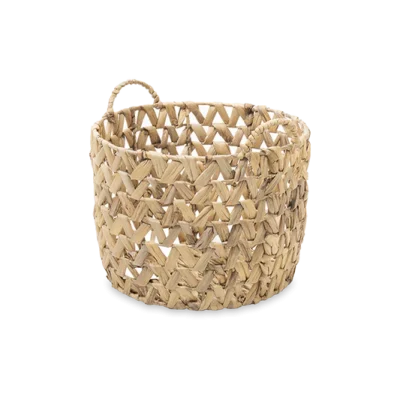 The metal frame will provide great sturdiness for storing water hyacinth products. Water hyacinth baskets, bins, storage cubes, boxes, trays, and other Home Storage & Organization products are made in Vietnam using an open zigzag weave.
9. Close Flat Weave
Another low-cost weaving style is a close flat weave of water hyacinth.
This is a plain weave with water hyacinth stalks crossing up and down each other. A metal frame is required for flat weave products to add sturdiness.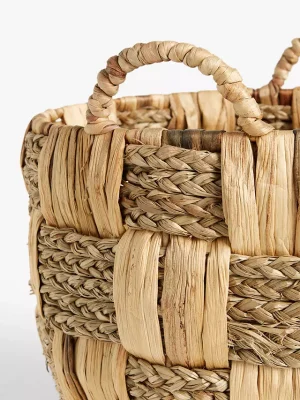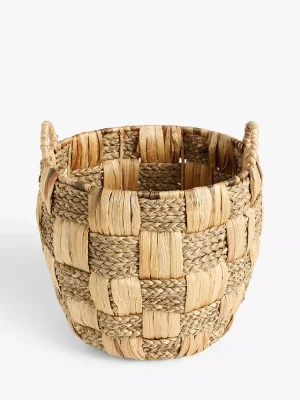 Round water hyacinth storage baskets
A close flat weave is frequently used for Storage, Organization, and Home Decor products with strong frames. Water hyacinth storage baskets, storage bins, boxes, and indoor planters, in particular.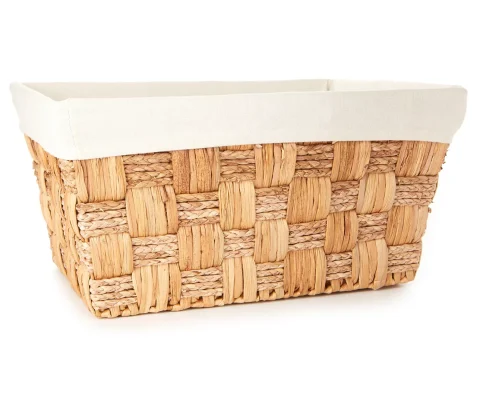 These are the top 9 weaving styles for hyacinth products that are most popular with Greenvibe. All of them create their own unique features for the product.
Greenvibe is a trusted exporter of handicraft home decor products made in Vietnam. We have factories that use natural water hyacinth and a strict product manufacturing process. Click the following link to discover more about our wholesale water hyacinth products.