If you live in the US and are into handicraft decorations, you've probably seen it yourself. Water hyacinth items are among favorites of virtually every home decor enthusiast. Well let us tell you: it's not just the customers. Having worked with many importers from the US, we can see water hyacinth items make it into almost every product request list they make.
Surely there's something (or a multitude of things) special about handicrafts made from water hyacinth, that sellers are always pumping their stock with new water hyacinth products?
To find out the reasons behind American importers' craze for water hyacinth handicrafts, we have to go over every unique property of water hyacinth itself:
1. More cost effective than other materials
Water hyacinth is a very sustainable source of material. If you don't know it yet, they are quite an invasive species. They grow like grass without the need for feeding and nourishment, unlike some other wicker materials like jute or palm.
They also take a fairly short time to mature (2-3 months), allowing for absolutely no shortage of raw material in any time of year. Which for importers, means that final products can be on the lighter side when it comes to price.
2. Quick & consistent product supply
For water hyacinth, the entire process from material to finished product is quite simple. Harvesting and processing steps are straightforward, and their flexible fibers make the weaving process that much easier.
Combined with the abundance of raw material mentioned above, importer's product requests for water hyacinth can always be met quickly and consistently.
_____
But enough about sellers' benefits, the main reason why water hyacinth is preferred by importers is simply because its products perfectly satisfy the average US consumer:
3. Attractive color for the American palette
As the sun-dried fiber itself, products made from water hyacinth all have a natural golden shade that is loved by all. To quote Andy Greenall, head of design, Paint & Paper Library: "Yellow is a color that evokes happiness and provides a sense of positivity. It is perfect for areas of the home where there is much activity and socializing, such as the kitchen and dining room, where it adds energy and vitality".
Their warm and bright colors have always been adored by American citizens and designers for home decoration. Compared to some other materials like rattan, their colors are superior by a long shot.
4. Lightweight, soft, strong
Compared to their biomass as a plant, sun-dried and processed water hyacinth fibers are surprisingly lightweight. Finished products woven from water hyacinth, even with supporting structures (metal frames, …), typically weigh less than a pound. They are also very pleasant to touch, having soft and starchy fibers.
Don't be mistaken by their weight however, hyacinth fibers are the top dogs when it comes to durability. When processed and woven, they possess incredible toughness.
It is only reasonable that water hyacinth is often used to craft storage baskets. Being lightweight makes them super convenient to carry, and their durability means they'll last your home a long time!
5. Utilities: Limitless options
These water hyacinth fibers can be woven to make a surprising variety of home accessories, from baskets, boxes to placemats, trays or poufs and ottomans. And the one thing people love is to have all their house items match the overall interior style.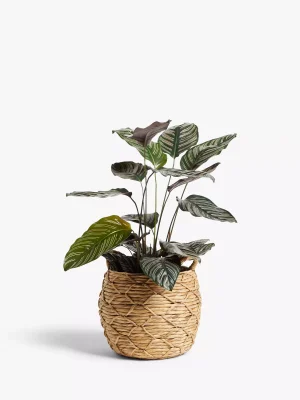 The incredibly soft fibers also mean that they can be used to make baby products such as baskets, cradles or bassinets.
One water hyacinth item stays exclusive however: Thanks to their flexibility and light weight, water hyacinth fibers can be woven with metal frames and hinges to create a foldable cube basket. These baskets can carry great weight, and when not in use can be folded flat to save space. Talk about unique!
Read more about these foldable baskets in our future blogs!
6. Decoration: Limitless options
Another thing that brings these water hyacinth items high up on the product list: Their ability to be mixed and matched
With any interior decoration style
Having such a vibrant yellow, water hyacinth items always offer a good accent color to energize your home space, or in many cases, to embrace that famous minimalistic look that people often talk about. It works all the same in a Bohemian decoration style, having such a simple and country aesthetics.
At any home space
Surely you're not purchasing that water hyacinth basket just for storage? They can help to compliment every part of your home space: living room, bedrooms, bathrooms, you name it. That basket you have can be switched from decorating your living room walls to storing fruits in your kitchen, while looking pretty all the same.
With any other natural materials
Quite often on an item do we see water hyacinth woven with other materials like seagrass or palm leaves. And for good reason too! They work super well with other natural fibers to make a collection of natural shades and colors, and further embrace that farmhouse look while infusing your home with more colorful patterns.
7. Great for followers of trends
Wouldn't you know it – the golden shade has been back on the interior decoration trend for a year now! Warm colors overall are having something of a revival, and a golden yellow will be at the forefront of decorating ideas for 2022-2023.
While the popularity of this color trend has been revived in recent times, the hue itself isn't new – the color yellow is one of the most revered shades in history. Which means water hyacinth will always have something, to satisfy even the savviest of home decor enthusiasts.
They are so timeless in fact, that many importers often become trend makers themselves, by acquiring unique water hyacinth products and unknowingly watches as their new lines of product become "decor trend of the year".
____________
Greenvibe is also a supplier of handicraft home decor products – from natural baskets and trays to placemats and poufs. We have partnered with many retailers – both brick-and-mortar and e-commerce sellers on Amazon. We value quality, trust, and effectiveness in our business ventures.
We also have a lot of experience in supporting Amazon sellers. Contact us at greenvibeltd.com/contact-us/ if you are interested in creating a long-term partnership together!