Seagrass is a native plant that grows naturally at a rapid speed. It is also a naturally renewable material that can be replanted to meet a variety of requirements. In recent years, it is being utilized to become a sustainable resource for producing various homewares. Through many different complex stages, artisans delicately turn them into beautiful products with many unique weaving styles for seagrass products.
This fiber is primarily used for bulk wicker baskets of various shapes, sizes, and styles. The top 7 popular weaving styles for seagrass products made by Vietnamese artisans are listed:
Split Seagrass

Twisted Seagrass

Braided Seagrass

Coiled Seagrass

Pressed Seagrass

Wrapped Seagrass

Rolled Seagrass
1. Split Seagrass
This is a very basic and traditional style. A machine splits the seagrass plant into long thin strands, which are then woven directly into a product, eliminating the need for twisting or braiding.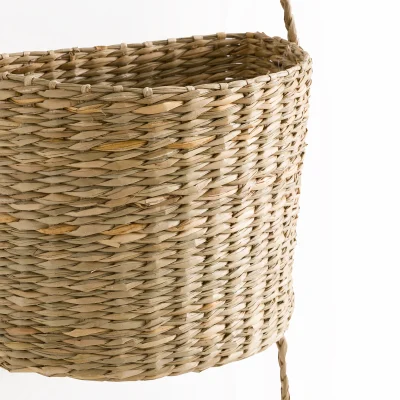 Split seagrass is not as thick as coiled seagrass and can deform over time with heavy items because it lacks supporting iron frames.
Having said that, natural storage baskets made of split seagrass are lightweight, soft, and durable enough for storage.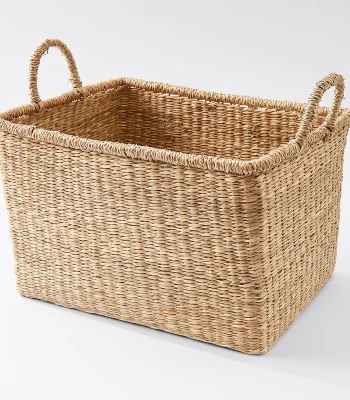 Before weaving, producers must dye seagrass strands to create patterns for baskets. Another method used by manufacturers to decorate their products is to draw or paint them, which is commonly used to make colored woven baskets and wall decor plates.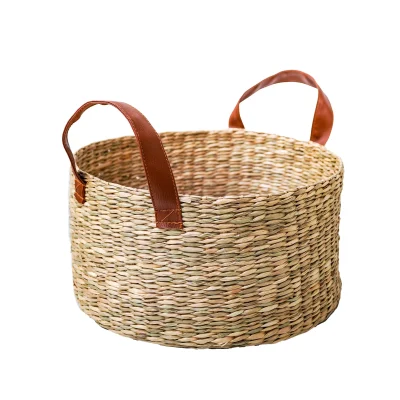 Split seagrass has the lowest overall cost of any seagrass weaving style because it is mostly plain woven and does not require much labor.
2. Twisted Seagrass
Twisted seagrass is a sub-material formed by twisting multiple strands of seagrass. These ropes are then woven together to create wholesale seagrass baskets.
Aside from a variety of rope diameters, baskets made of twisted seagrass can be closed weaves, open weaves, plain weaves, or checkered weaves.
Twisted seagrass is a durable and relatively tough material that is used not only in basket weaving but also in seagrass storage cubes, carpets, rugs, trays, planters, and other items.
Although not all split seagrass baskets require iron frames, iron frames will assist baskets in becoming sturdy and in good condition. Wholesale seagrass baskets without iron frames can become deformed, but they are still useful for storing everything from small odds and ends to books, clothes, fruits, and so on.
Twisted seagrass is more expensive than split seagrass because local weavers must spend more time trimming the product.
3. Braided Seagrass
A braided seagrass rope is made by braiding multiple seagrass strands together, giving it a rustic look. Producers weave or sew these ropes neatly to create wholesale seagrass baskets, just like twisted seagrass.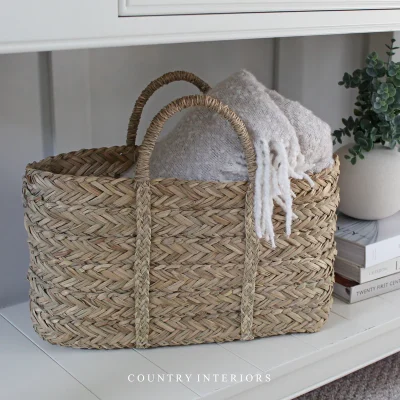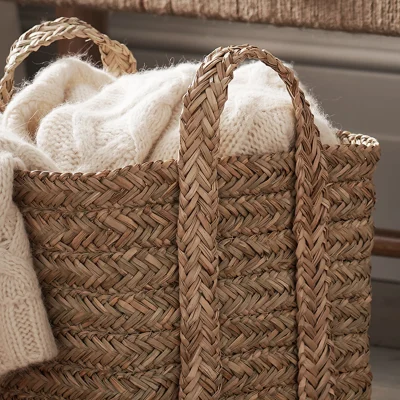 Braided seagrass ropes come in a variety of diameters and styles (three-braid or five-braid). Wholesale home decor vendors frequently make baskets without using iron frames with this sub-material. As a result, the production time is reduced.
Many braided seagrass baskets are brown in color. These baskets can be decorated by local weavers by dyeing or painting them. However, due to the rough finish, the paint on braided seagrass is likely to deteriorate, especially if the products are not carefully packaged.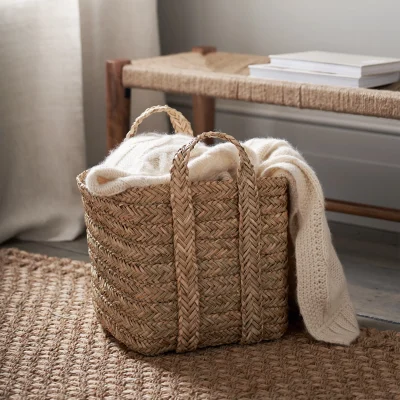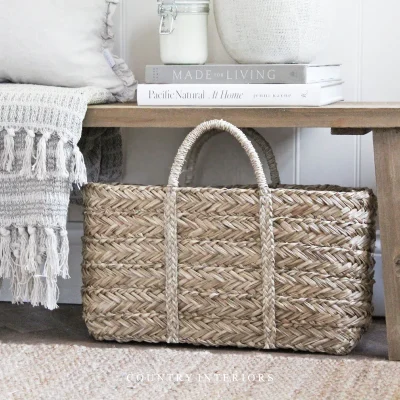 Braided seagrass is primarily used to make baskets, but it is also used to make planters, rugs, placemats, trays, lamp shapes, and shopping bags.
4. Coiled Seagrass
Coiling is a common method for producing wholesale seagrass baskets. Using colored plastic strings, local artisans coil multiple thin seagrass strands.
Iron frames are not required for coiled seagrass. Despite this, the weave creates a neat, thick, sturdy weave that contributes to the baskets' good shape for long-term storage, even when the baskets contain heavy items inside.
This seagrass weaving style requires artisans to use various plastic strings to create patterns. Furthermore, they must pay close attention to each weave: they coil seagrass and determine when to change the colors of plastic strings. The clear patterns are more visible in larger baskets.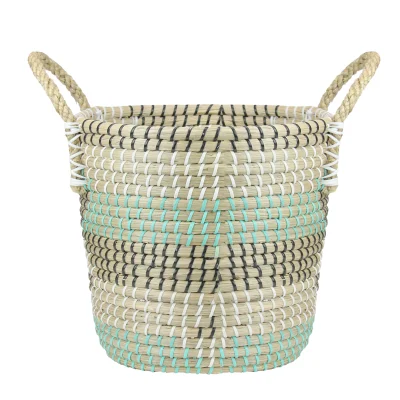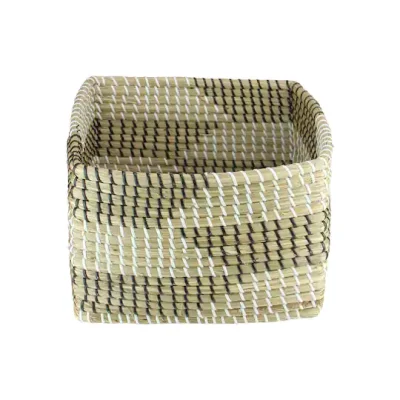 Due to material and labor costs, coiled seagrass is typically the most expensive of all seagrass weaving styles. Weavers create patterns with multiple plastic strings and a thick layer of seagrass. Large dimensions, irregular shapes, or complicated patterns also necessitate more time and effort.
Coiled seagrass can be found in laundry baskets, storage baskets, Moses baskets, indoor planters, trays, pet baskets, and wall decor plates.
5. Pressed Seagrass
Pressed or flat seagrass is another popular seagrass weaving style. Seagrass strands are woven into wholesale seagrass baskets after being flattened by a machine to become soft and flat.
However, because they lack iron frames, these woven baskets may become deformed over time or when carrying a heavy load of items inside.
Pressed seagrass is soft, lightweight, and extremely durable, making it an excellent choice for a variety of products such as storage baskets, indoor planters, placemats, and shopping bags. Seagrass belly baskets are a classic example of pressed seagrass, and they can be folded in half when not in use or during transit.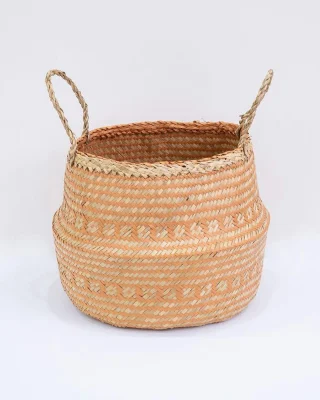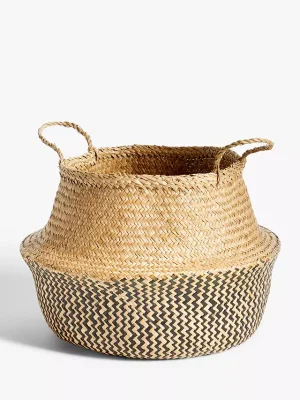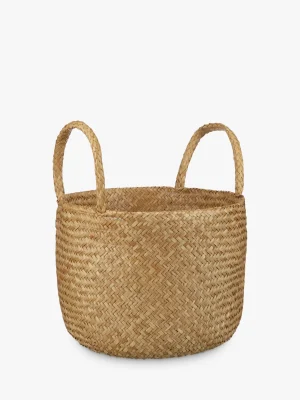 Pressed seagrass baskets with natural colors are very popular. Wholesale seagrass baskets have a smooth finish and can be decorated in a variety of ways, such as dyeing, painting, or attaching pom-poms, leather, and so on.
6. Wrapped

Seagrass
Wrapped seagrass is a technique that involves wrapping plastic strings around seagrass to form a rope, which is then neatly weaved or linked into products. This weave is becoming more popular and is similar to the twisted or braided seagrass method. Local artisans frequently use rattan frames instead of iron frames when wrapping seagrass.
Wrapped seagrass looks and feels almost identical to coiled seagrass (considering the quite-similar strand-forming technique) in terms of thickness and durability. Because artisans use a lot of seagrass and plastic, the two seagrass weaving styles are usually equally expensive. However, the pattern selection for baskets and other homewares is limited.
Cotton strings are a better alternative to plastic because they are thinner, more environmentally friendly, and still strong. Seagrass wrapped in cotton strings gives Vietnam wicker baskets a more delicate, elegant texture.
Wrapped seagrass is used in many housewares due to its strong structure, particularly in storage baskets, indoor planters, laundry hampers, and pet houses. One advantage of purchasing these products is that they are produced in less time than other seagrass weaving styles of wicker basket bulk.
7. Rolled Seagrass
Compared to other seagrass weaving styles, the rolled weave has the highest production cost.
To make rolled weaves, artisans first move seagrass into a fine rope before wrapping them around a core (which includes multiple seagrass strands). These ropes are then linked together, either with or without a metal frame, to form a product.
The rolled weave of seagrass is ideal for Storage & Organization items such as seagrass baskets, laundry hampers, laundry baskets, storage baskets, and storage bins due to its thick characteristics.
These are the top 7 weaving styles for seagrass products that are most popular with Greenvibe. All of them create their own unique features for the product.
Greenvibe is a trusted exporter of handicraft home decor products made in Vietnam. We have factories that use natural seagrass and a strict product manufacturing process. Click the following link to discover more about our wholesale seagrass products.