When looking for the best handicraft serving tray for your needs, there are several factors to consider. Use this guide to select from the various types of serving trays.
There is more to looking for a serving tray than simply adding it to your shopping cart. Whether you're serving your family or entertaining guests, you want to make sure you're using the right serving tray. With so many different types of serving trays available today, it's easy to become overwhelmed.
The good news is that finding a serving tray that works for you is not impossible. Use the guide and questions below to select the best serving tray for your needs.
1. What are your plans for your tray?
The first question you should ask yourself is, "How will I use my serving tray?" Do you intend to use your tray on a daily basis or only on special occasions? The serving tray is ideal for fresh fruit, dinner rolls, or even quick snacks. The Seagrass Round Serving Tray is a great choice for coffee, appetizers, or desserts if you're looking for a wicker serving tray for a party.
2. Are you looking for a specific type of material?
When looking for the best serving tray, make sure you choose a material that is suitable for you. Because of the natural, sustainable materials, a serving tray made of seagrass or water hyacinth, for example, can fit your green lifestyle. In this case, the Seagrass Rectangular Serving Tray or the Water Hyacinth Wicker Serving Tray with Handles may be suitable.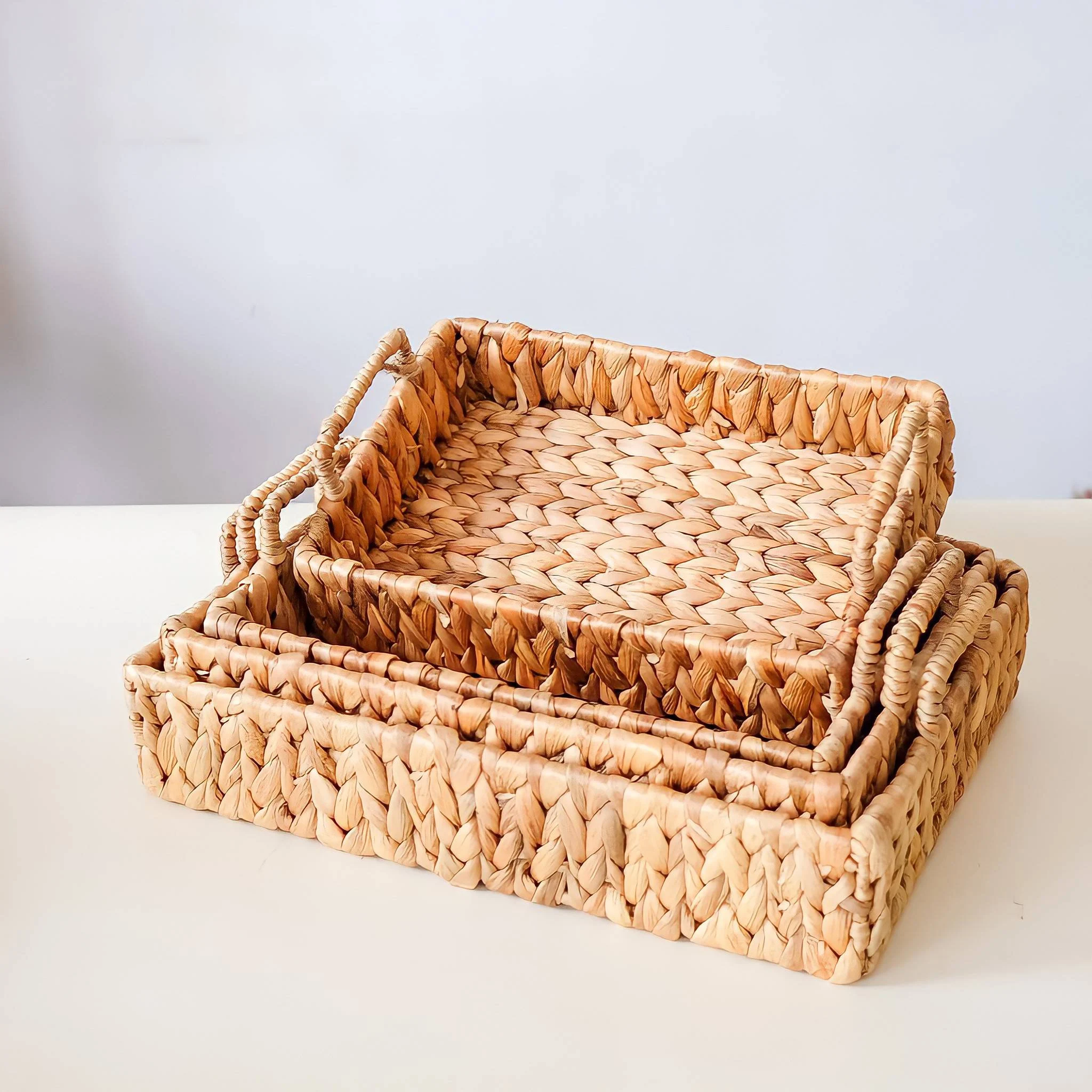 3. What size tray are you looking for?
You should also consider the tray's size to ensure that it can be easily carried and stored. Trays come in a variety of sizes, with dimensions ranging from 12″x15″ to 19″x13″ depending on the shape. The Water Hyacinth Leaf Tray is ideal for holding small snacks like candy, grapes, or nuts. Consider the Seagrass Rectangular Serving Tray if you require a larger serving tray for food.
4. Do you require any additional features?
When researching the various types of serving trays, consider the extra features that may be included in your tray. You may require a multi-compartment tray for outdoor events, or you may require a serving tray with handles for easy transport. Consider our Seagrass Rectangular Cutlery Tray, which has four compartments, making it easy to organize your food, fruit, and so on.
5. What do you think of the overall look?
Finally, consider the overall style you have in mind for your serving tray. You can find a serving tray in a rectangle, round, or oval shape to fit your space, as well as a beautiful rustic serving tray.
Greenvibe has a wide range of handicraft serving tray templates to suit your needs. Click here to see our wholesale tray storefront!
Greenvibe is also a supplier of handicraft home decor products – from natural placemats and coasters to wholesale baskets and trays. We value quality, trust, and effectiveness in our business ventures.