People love your product lines of baskets. They are a practical and attractive organization and storage solution for any home, workplace, or school place. But you must keep what your customers value in your baskets – when sourcing, ensuring your future stock's quality is crucial. This article will go over some basic features a wicker basket must have to know how to check the quality of wholesale wicker baskets
Sizes must complement needs
You wouldn't be doing your customers justice if you didn't meet their needs with a variety of sizing options, or at least one that reasonably fits their intended purpose.
For example, the majority of our wholesale baskets are available in sizes that meet your demands for storage and organization. There are often three preset sizes for our clients to consider. They each offer plenty of depth and two easy-to-carry cut-in handles for convenience.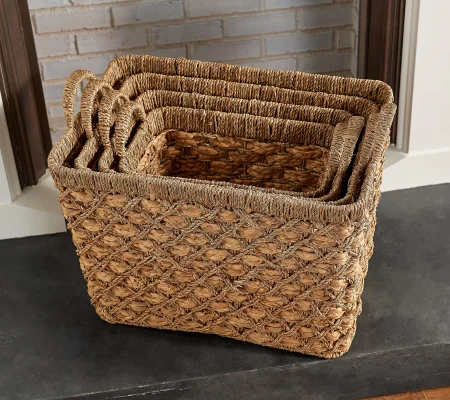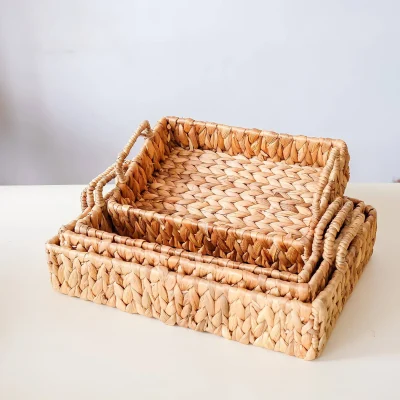 Convenience and Utility
Before deciding your quotes, consider some of these things about the baskets you choose, from your customer's standpoint.
Style and practicality
Generally, a basket must have some sort of handles, be it cutout, made from wood, or from braided fibers around a metal bar.
Take most of our seagrass storage baskets, for example, each model has two convenient cut-in handles for carrying and a generous amount of depth. They will look much more stylish and will surely have some added value in the eyes of your customers. A lid would be nice too, and a detachable lid would be perfect.
Sturdy structure and durable bottoms
A basket is sometimes only as good for your customer as the content they can hold. Our wicker baskets are available in a wide range of weave types, all of which enhance their exceptional resilience and aesthetic appeal.
Baskets should normally have a sturdy metal frame design with a strong, supportive padded bottom. You should be able to fill any of these wicker baskets with books, art supplies, or the collection of baking supplies kept in your kitchen cupboard. You can be sure that a basket of exceptional quality is made to carry all of your work and household stuff.
Our wicker baskets come in a variety of different weave styles, all adding to the remarkable durability and décor. Made from seagrass and water hyacinth, they are naturally durable and flexible, and most of them have a supporting frame to help add to the resistance.
In good condition & with proper care
A wicker basket's longevity will always be ensured by proper care. By preventing excessive moisture from getting inside your baskets, you will help maintain their strength and aesthetics. You have to make sure that your supplier has dedicated processes and infrastructures to maintain and preserve their stock.
Wicker materials may lose their shape or grow mold if water is not protected carefully. Outdoor baskets should be protected from severe rain, while indoor basket placement should prevent standing water or too much dampness. As soon as water contact is obvious, they have to be kept as dry as can be.
When cleaning You can use a dry brush to get rid of dust and filth. Really get in there and clean between those areas to make sure you eliminate all grime and dirt with an appropriate brush because some wicker weave patterns can be more difficult than others.
The moisture level is an extremely important criterion when considering wholesale baskets. An acceptable moisture level of 10-20% should be acceptable for a basket, so check the quality of wholesale baskets and the samples your supplier sent you carefully.
To sum up
Screening your wholesaler's catalogs for baskets is an arduous task. Your wicker baskets should be able to pass some basic quality of wholesale baskets assessments, including:
Materials are flexible and durable enough to have strength and durability

Stock is maintained properly

Strong bottoms and supportive frames to support the weight

Stunning weaves and offers convenience in usage

Have alternatives or are custom for your modification
If you're looking for woven baskets in bulk for your company, check out the many different patterns created in Vietnam right on our website at https://greenvibeltd.com/potfolio/woven-baskets-and-storages/