However, in order to achieve the classic minimalistic look, many people like to only use decorations with natural and classic color tones. Great news for them – with some of these colorful wicker baskets, your children's room can keep the soft touch of the Scandinavian style, and still looks fun & interesting. Let's check them out!
Children certainly want things that are interesting to them, including the bedroom. Allowing children to play outside the home will certainly be very dangerous for children, and making their bedrooms feel fun and interesting will make the child prefer to stay at home. Applying a fun and attractive room for a beloved child is the right choice, as this will make the child feel comfortable when in their room.
1. Animal toy baskets – Creative and adorable
As a child explore new and interesting things in the world, these animal-shaped toy baskets are a source of endless fun and curiosity for them. They represent many animals: a scaredy cat, a curious owl, or a miniature elephant… Look at these cute noses!
They are exclusively made from water hyacinth. This allows them to have a soft and fluffy surface that's super pleasant to touch, and safe for your children's skin. Flexible water hyacinth fibers also mean they can become the various animal shapes and sizes we see, while also possessing a warm vibrant color tone. They will fit in perfectly with the famous Nordic and Bohemian interior design styles while bringing an upbeat atmosphere to your child's space.
Check out these bears and foxes, and the ears on top of their heads. That's right, they also have lids and handles for convenience, and extra cuteness that'll keep your children occupied all day. In addition, the use of animal baskets can increase the creativity of your child. There are many benefits that you will get from applying them to a child's room.
And to make a child's bedroom feel more upbeat and interesting, there are additional color finishings to make these colorful wicker baskets more attractive and energetic. Like these mushrooms!
Our bears and foxes also have different coats of color too. Water hyacinth is known for being durable and pleasant to touch. And together with inner metal frames, they will last your children a long long time!
Some of these bears and piglets even come in tapered shapes. Adorable as always, but they are super spacious for any toys or clothes. The shape also allows them to be nestable, for maximum space saving when not in use.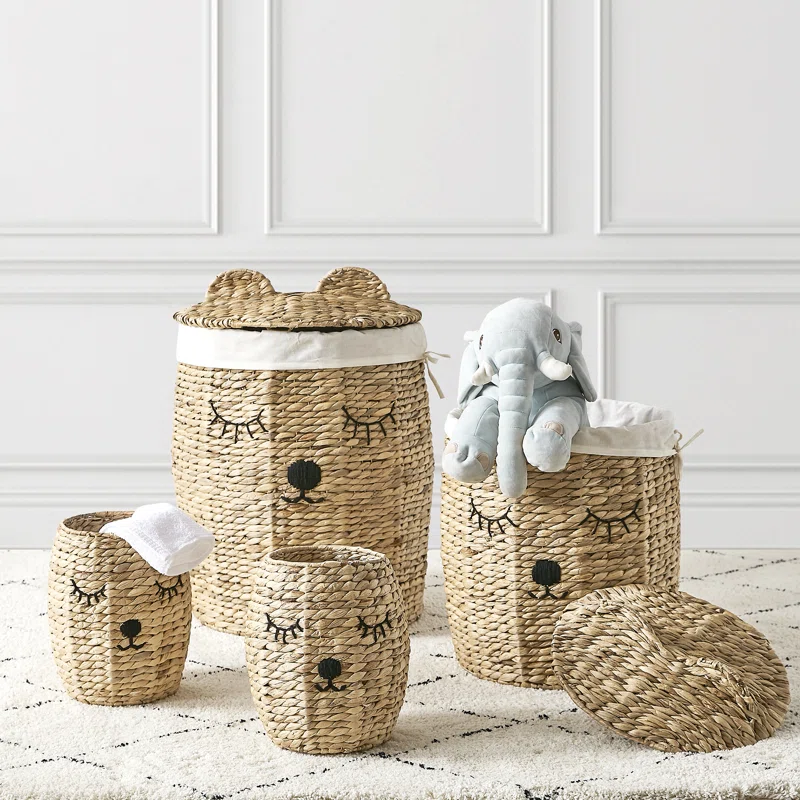 2. Colorful storage baskets – Lovely & spacious
All children will certainly be more interested in unique and fun things. You can use this to make their rooms interesting and fun. Apart from those animal toy baskets, all you need to do is use some unique furniture, like these storage baskets! They too are made from water hyacinth, with its warm natural shade. On top of that, their unique and colorful weave is what makes them stand out.
To make a child's mood always good, the choice of colors for their room certainly needs attention. The use of colors will affect the atmosphere created in the room. For these colorful wicker baskets, braided water hyacinth fibers are given a rainbow pattern, bringing in a much more attractive appearance.
Or this one, with a lovely flower, attached. The use of animal, baskets will make the room feel fun and feel like being in a zoo, the use of these flower baskets will make the room look fun, immersive, and very sweet, with something straight out of the magical worlds from Disney or The Wizard of Oz.
And what about these multi-functional storages? Their caddy appearance with mixed weave and extra coloring can greatly contribute to brightening your kid's room. With cut-out handles that can be nested, they are a great option for storage and decoration in a nursery space, for holding books, papers or toys.
These open-weave baskets are also great! They showcase an easy see-through design to help find items quickly. They offer ample space for bags, toys, and much more to help keep them neat and clean. Woven to look like a giant magical tulip, these flower-shaped baskets will bring a sense of adventure and creativity to your children's room.
3. Easter Basket – Festive vibe with extra cuteness
Part of the Easter festivities today includes giving children baskets of goodies, which are left ostensibly by the Easter Bunny. Easter baskets have become an indicator of status and means as much as they are a part of the Easter tradition. And what better way to celebrate Easter than with one of these wicker baskets? Woven from water hyacinth, they have a classic round shape and arched handles. They make excellent gifts and wonderful centerpieces. So, why not treat yourself to one?
After all the chocolate bunnies and jelly beans have been devoured, you can still transform these holiday containers into smart, stylish storage options throughout your home. Our small Easter baskets are super lovely and great for storing small toys like stuffed animals, or small accessories like pens and keys. They look the best as decoration on desks, windows, and counters.
These bunnies are also in different sizes, too! Water hyacinth brings a natural fresh aesthetics, and extra paint makes them much more eye-catching. Extra metal frames are woven for bigger bunnies, and their perked ears will never fail to catch your attention. Give them home to decorate your Easter holiday, or just to create a fun and interesting atmosphere for your children!
____________
Here at Greenvibe, we have a lot more wicker items and designs for kids – check out our wholesale kid's products catalogs here!
Greenvibe is a supplier of handicraft home decor products – from natural baskets and trays to placemats and poufs. We have partnered with many retailers – both brick-and-mortar and e-commerce sellers on Amazon. We value quality, trust, and effectiveness in our business ventures.
We also have a lot of experience in supporting Amazon sellers. Contact us at greenvibeltd.com/contact-us/ if you want to create a long-term partnership!