At the core of our gifting philosophy lies the desire to bring an enduring sense of happiness to your loved ones. For us, nothing compares to the unmatched joy that comes from eco-friendly home accessories, which not only enhance the aesthetic appeal of your abode but also present an extensive array of sustainable gifts options. Imagine the delight on your dear one's face as they receive a thoughtfully curated present that can enrich their daily life. It's a feeling like no other, and we believe that sustainable living products can bring that emotion to reality.
Small wicker baskets
Small wicker baskets are the perfect housewarming gift for anyone who loves sustainable and stylish home decor. Eco-friendly and fair trade, this beautiful addition is a sustainable choice for any room. The water hyacinth basket adds character and texture to any space, with intricate weaving for a one-of-a-kind gift. Whether they're used to hold plants, organize small items, or simply as a decorative accent, these hyacinth baskets are sustainable and meaningful gifts that will be cherished for years to come.
For example, surprise your loved ones with hyacinth baskets with wooden handles, perfect for holding fruits, food, kitchen and bathroom essentials, and more. Made from 100% natural water hyacinth and hand-woven with thick braids, and a sturdy wooden frame, these baskets make a thoughtful and practical gift that the recipient is sure to adore.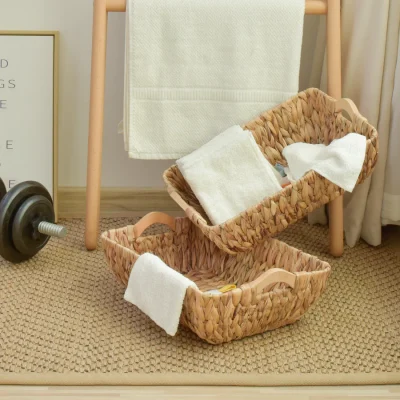 Another option is the wholesale hyacinth woven basket. The natural color of the water hyacinth adds to its appeal, providing an earthy and organic feel. An open weave water hyacinth basket is a perfect gift for natural material and weaving enthusiasts.
At Greenvibe as wholesale wicker baskets company, we offer you an array of exceptional options to choose from. You can find more basket models at this site. Our seagrass baskets are not only small and perfect for gifting, but they are also stunning pieces of art that go beyond mere functionality.
Seagrass wall art
Seagrass wall art is the perfect gift for anyone who wants to bring a touch of nature and elegance to their home. The intricate details of the seagrass weave create a stunning and unique pattern that is both eye-catching and soothing. Give the gift of seagrass wall hanging and bring joy, beauty, and environmental consciousness to someone's life. For instance, how about this set of two-toned seagrass wall decor with a layered design to add uniqueness to your room?
This set of beautiful wall hangings is the perfect housewarming gift to help your friends turn their new house into a cozy and inviting home. The design and colors add personality to any room, perfect for celebrating a new milestone.
Seagrass lamp shade
A seagrass lamp shade is the perfect gift for anyone who loves to infuse their living space with natural beauty. A seagrass light shade brings coastal charm and soothing ambiance to any room. Its rustic elegance makes it a perfect addition to a beach house or for bringing nature indoors. Choosing this sustainable and eco-friendly gift shows thoughtfulness and attention to detail that any recipient will appreciate.
Seagrass planter
Bring some greenery into your loved one's life with a seagrass plant pot! They're a stylish and eco-friendly way to display your favorite plants at home. Hand-woven from seagrass, these planters are not only aesthetically pleasing but also environmentally friendly. Your friend or family member will love the way these planters bring sustainable life to any room and remind them of your thoughtful gifts. With a seagrass planter, you're not just giving a gift, you're giving a sustainable way to showcase nature's beauty.
Welcome your loved ones to their new home with the gift of natural beauty with our black stripe seagrass hanging planter. Great for housewarming occasions, these eco-friendly planters add greenery to any space. A versatile gift for any nature-lover, these planters can be used to create a stunning display of flowers or succulents, thanks to their adjustable rope.
With minimal design and small size, the seagrass planter basket is an ideal choice for giving your special ones. With its natural texture and earthy color, this planter adds a touch of warmth and charm to any room. Not only is it aesthetically pleasing, but it also brings the joy of gardening indoors. The recipient will love their new planter and think of you when admiring their fresh herb garden or beautiful flowers.
Looking for sustainable and ethical gift ideas that bring joy to our loved ones is an exciting adventure. Handmade seagrass baskets, eco-friendly personal care products are just a few of the endless options available. Choosing sustainable gifts to show appreciation, contribute to sustainability and bring a smile to your loved one's face.